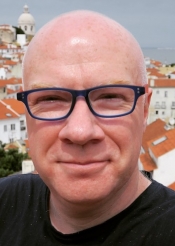 I first came across John Williams a few years ago. I kept hearing about him from people I met on Facebook and in real life.
Many of them had taken his 30 Day Challenge, with remarkable results. They no longer seemed bound by the limits of their day jobs.
They were adventurous types, looking to do something bold with their lives.
So I connected with John on Facebook, and soon afterwards met him in real life, at a coffee shop in north London.
He asked about the work I was doing at that time with The School of Life. About my experience as a journalist.
And he told me some rather remarkable things about the help he gave people, through courses he delivered online.
Not something that anybody else I knew was doing at that time.
(Mind you, he also held live meet-ups.)
A lot of this was related to his highly successful book, Screw Work Let's Play.
I asked how John had first dared to "screw work" himself…
…and soon afterwards interviewed him about it for my series on "Conversations That Changed Everything".
The conversation he told me about was with a stranger who initially irritated him – but who made it possible for John to recognise entirely new possibilities in his life.
Possibilities that he's turned into reality.
You can watch the interview for yourself, here:
Great line that: "I think it's a universal thing that we are annoyed, as I was back then, by that thing that we have denied ourselves."
Some time later, I got John involved when I was organising a kind of "mastermind group" for authors, with Unbound, the publisher of my novel.
There were about 30 of us in the room, trying to work out what publishing might be like if authors had more control.
Here's a pic of John, talking at the end of that day with one of my other friends, whose identity I have carefully concealed. :-)
Since then, John has gone on to publish a second best-selling book of his own.
And now he's created a system to help anybody else do the same.
Until fairly recently, I wouldn't have believed this was possible. I'd have found it irritating, in the way John was irritated by that life-changing conversation.
But I know better today. I like and trust John, and I've come across enough people who rave about him to know that he must be onto something…
Including people who have enjoyed tangible results from working with him.
Like the man in this post John put on Facebook recently:
So here's the thing.
If you've ever dreamed of writing a bestselling book – particularly a business, psychology, health or other non fiction book – then here is something that could make that dream a reality.
John is running a one-off programme called The 30 Day Bestseller Challenge to find the bestseller in you, start writing it, and get 30 days of advice from experts including a literary agent, commissioning editor, self-publishing guru, and bestselling authors.
And most importantly, you'll have the momentum and support of a global online community of book-lovers like you.
John has kindly offered a special discount voucher for me to share with you that will save you a third off a place on The 30 Day Bestseller Challenge.
But the offer ends VERY soon.
Read all the details by clicking on this picture, and enter the promo code SPECIAL during checkout to save 33%: